Litecoin (LTC/USD) has been the best-performing big-cap coins in the past few months. After falling to a low of $40.60 on July 12, Litecoin has been in a slow upward trend. It has risen by over 125% from the lowest point in 2022. It is also hovering near its highest point since May 2022. This means that it has outperformed Ethereum and Bitcoin prices by far. Here are some of the top charts that explain the strong LTC comeback.
Litecoin hashrate has been rising
Hash rate is an important metric in proof-of-work (PoW) cryptocurrencies like Litecoin, Bitcoin, and Ravencoin. It is a measure that looks at the computation power of a network. The hash rate works by determining the number of guesses or calculations that are made per second. A higher hash rate indicates that a network is significantly safe.
Find out how to buy Litecoin.
As shown below, Litecoin's hash rate has been in a strong upward trend in the past few months. It rose to an all-time high of 675.85 TH/s this month, according to IntoTheBlock (subscription needed). In contrast, the hash rate was about 149 TH/s in December 2020. Other mining-related metrics have been relatively positive, with the mining difficulty standing at a record high of 20.87 million. A higher difficulty means that the network is getting more active.
Litecoin hash rate chart
Litecoin network statistics
Another statistics that explain why Litecoin price has jumped is that the level of activity in the network have been rising gradually. One useful data to watch is the total network fees, which is the total amount paid in fees to use the network on a given day. The average network fee is $1.12k, where it has been in the past few weeks. It was at $620 at the lowest level in 2022.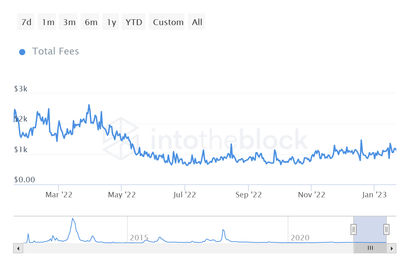 Litecoin total network fees
However, it is worth noting that Litecoin price has soared even as the number of active addresses in the network has fallen. Litecoin has 252k active addresses, which is lower than 2022 high of 532k. Zero-balance addresses has dropped to about 163.25k.
Most Litecoin holders are profitable
Meanwhile, on-chain data shows that most Litecoin holders are currently in the money or profitable. As shown below 3.64 million addresses, equal to 54.32%, are currently in the money. 2.85 million addresses are in the loss-making area while 206k are at the money.

Litecoin liquidations
Another data that explains the recent Litecoin price is that more short sellers have been exiting their positions. According to CoinGlass, the volume of daily short liquidations surged to $8.3 million compared to bulls liquidations of $142. The same situation happened on January 9 when $5 million shorts were liquidated and on January 14 when $7.29 millions of them were liquidated.